$29.95
AUD
Category: Reference
** Reviewed and updated for the 2020-2021 financial year** This is the only money guide you'll ever need That's a bold claim, given there are already thousands of finance books on the shelves. So what makes this one different? Well, you won't be overwhelmed with a bunch of 'tips' … or a strict budget (t hat youwon't follow). You'll get a step-by-step formula: open this account, then do this; call this person, and say this; invest money here, and not there. All with a glass of wine in your hand. This book will show you how to create an entire financial plan that is so simple you can sketch it on the back of a serviette … and you'll be able to manage your money in 10 minutes a week. You'll also get the skinny on: Saving up a six-figure house deposit in 20 months Doubling your income using the 'Trapeze Strategy' Saving $78,173 on your mortgage and wiping out 7 years of payments Finding a financial advisor who won't rip you off Handing your kids (or grandkids) a $140,000 cheque on their 21st birthday Why you don't need $1 million to retire … with the 'Donald Bradman Retirement Strategy' Sound too good to be true? It's not. This book is full of stories from everyday Aussies — single people, young families, empty nesters, retirees — who have applied the simple steps in this book and achieved amazing, life-changing results. And you're next. ...Show more
$29.99
AUD
Category: Reference
From the author of international bestseller The Monk Who Sold His Ferrari comes an inspirational and honest account of how simple changes can transform our lives. "Winning starts at your beginning. And your first hours are where the great heroes are made. Own your mornings and you'll master your life." Ever wanted to achieve a greater understanding of how to restore balance in your life? Robin Sharma, one of the world's top leadership and personal-mastery experts, reveals exactly how: wake up early. The 5AM Club gives practical and aspirational advice on how to use the most of your morning to unlock your topmost potential. Using real-life examples, Sharma demonstrates how this lifestyle can reduce stress, increase productivity, unleash creativity, improve focus, and most crucially, feel better. Exploring both meditation and mindfulness, The 5AM Club encapsulates the growing movement and ethos which many athletes, performers and CEOs have adopted to achieve success: just one hour can change your life. ...Show more
$24.99
AUD
$34.99
(28% off)
Category: Reference
From the author of the international mega-bestseller The Subtle Art of Not Giving A F*ck comes a counterintuitive guide to the problems of hope. We live in an interesting time. Materially, everything is the best it's ever been--we are freer, healthier and wealthier than any people in human history. Yet, somehow everything seems to be irreparably and horribly f*cked--the planet is warming, governments are failing, economies are collapsing, and everyone is perpetually offended on Twitter. At this moment in history, when we have access to technology, education and communication our ancestors couldn't even dream of, so many of us come back to an overriding feeling of hopelessness. What's going on? If anyone can put a name to our current malaise and help fix it, it's Mark Manson. In 2016, Manson published The Subtle Art of Not Giving A F*ck, a book that brilliantly gave shape to the ever-present, low-level hum of anxiety that permeates modern living. He showed us that technology had made it too easy to care about the wrong things, that our culture had convinced us that the world owed us something when it didn't--and worst of all, that our modern and maddening urge to always find happiness only served to make us unhappier. Instead, the "subtle art" of that title turned out to be a bold challenge: to choose your struggle; to narrow and focus and find the pain you want to sustain. The result was a book that became an international phenomenon, selling millions of copies worldwide while becoming the #1 bestseller in 13 different countries. Now, in Everthing Is F*cked, Manson turns his gaze from the inevitable flaws within each individual self to the endless calamities taking place in the world around us. Drawing from the pool of psychological research on these topics, as well as the timeless wisdom of philosophers such as Plato, Nietzsche, and Tom Waits, he dissects religion and politics and the uncomfortable ways they have come to resemble one another. He looks at our relationships with money, entertainment and the internet, and how too much of a good thing can psychologically eat us alive. He openly defies our definitions of faith, happiness, freedom--and even of hope itself. With his usual mix of erudition and where-the-f*ck-did-that-come-from humor, Manson takes us by the collar and challenges us to be more honest with ourselves and connected with the world in ways we probably haven't considered before. It's another counterintuitive romp through the pain in our hearts and the stress of our soul. One of the great modern writers has produced another book that will set the agenda for years to come. ...Show more
$24.99
AUD
Category: Reference
The brilliant, inspirational next book by the author of the incredible No. 1 bestseller FIRST MAN IN. Without fear, there's no challenge. Without challenge, there's no growth. Without growth, there's no life. Ant Middleton is no stranger to fear: as a point man in the Special Forces, he confronted fea r on a daily basis, never knowing what lay behind the next corner, or the next closed door. In prison, he was thrust into the unknown, cut off from friends and family, isolated with thoughts of failure and dread for his future. And at the top of Everest, in desperate, life-threatening conditions, he was forced to face up to his greatest fear, of leaving his wife and children without a husband and father. But fear is not his enemy. It is the energy that propels him. Thanks to the revolutionary concept of the Fear Bubble, Ant has learned to harness the power of fear and understands the positive force that it can become. Fear gives Ant his edge, allowing him to seek out life's challenges, whether that is at home, pushing himself every day to be the best father he can be, or stuck in the death zone on top of the world in a 90mph blizzard. In his groundbreaking new book, Ant Middleton thrillingly retells the story of his death-defying climb of Everest and reveals the concept of the Fear Bubble, showing how it can be used in our lives to help us break through our limits. Powerful, unflinching and an inspirational call to action, The Fear Bubble is essential reading for anyone who wants to push themselves further, harness their fears and conquer their own personal Everests. ...Show more
$29.95
AUD
Category: Reference | Series: Australian Dictionaries/Thesauruses/Reference Ser.
The Australian Pocket Oxford Dictionary (APOD) is an indispensable guide to English as it is written and spoken in Australia. First published in 1976, the APOD is Australia's bestselling dictionary. Extensive and versatile, this dictionary is firmly established as Australia's favourite reference in scho ols, homes, and offices and provides unrivalled coverage of Australian English. Featuring over 500 new words, this eighth edition of the APOD commemorates 30 years of the Australian National Dictionary Centre at the Australian National University in Canberra. To celebrate this anniversary, a limited number of copies will feature a special edition cover. ...Show more
$22.99
AUD
Category: Reference
'A master of persuasion.' Forbes 'This book blew my mind.' Adam Grant, bestselling author of Originals A former FBI hostage negotiator offers a new, field-tested approach to negotiating - effective in any situation. After a stint policing the rough streets of Kansas City, Missouri, Chris Voss joined the FBI, where his career as a kidnapping negotiator brought him face-to-face with bank robbers, gang leaders and terrorists. Never Split the Difference takes you inside his world of high-stakes negotiations, revealing the nine key principles that helped Voss and his colleagues succeed when it mattered the most - when people's lives were at stake. Rooted in the real-life experiences of an intelligence professional at the top of his game, Never Split the Difference will give you the competitive edge in any discussion.   'Filled with insights that apply to everyday negotiations.' Business Insider 'A stupendous book.' The Week 'It's rare that a book is so gripping and entertaining while still being actionable and applicable.' Inc. ...Show more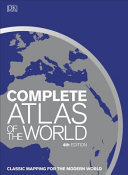 $69.99
AUD
$75.00
(6% off)
Category: Reference
First published in 2007 and now in its 4th edition, the Complete Atlas of the World has been fully revised and updated to encompass recent world events. The opening section of the book provides a fascinating insight into our planet from a number of perspectives, ranging from oceans, to population and e conomics. The main body of the book consists of 97 carefully selected regional maps, each enjoying a lavish double-page spread allowing cartographers to incorporate an amazing level of detail. For even more detail there are a further 100 detailed city plans created from the latest digital data allowing you to explore places from Seattle to Sydney. And linking all of this together is a fully cross-referenced index containing a staggering 100,000 place names making this a truly comprehensive portrait of our planet at a very competitive price. ...Show more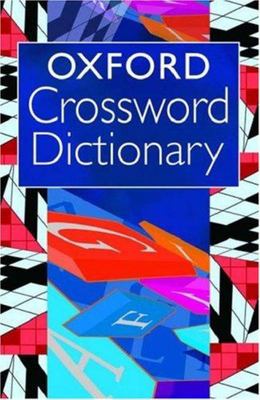 $20.95
AUD
Category: Reference
With over 100,000 words and phrases, the "Oxford Crossword Dictionary" is the crossword enthusiast's key to success. Words and phrases are arranged by word length and alphabetically for easy look-up. There are 12 main sections covering words from two to thirteen letters in length and a further section c ontaining phrases. The dictionary includes new words, technical and foreign terms, and up-to-the minute proper names. "The Oxford Crossword Dictionary" has been compiled using the rich resources of Oxford's Dictionary Department and advised by the "Guardian" newspaper's crossword editor, Hugh Stephenson, who has also written the Foreword. The design is clear and accessible for quick look-up and ease of use. Together with the "Oxford Puzzle Solver", the "Oxford Crossword Dictionary" will ensure that crosswords get solved every time! ...Show more
$22.95
AUD
Category: Reference
This is not an ordinary dictionary. After all, you wouldn't expect an 'Oxford Roald Dahl Dictionary' to be ordinary, would you? Lots of dictionaries tell you what an 'alligator' is, or how to spell 'balloon' but they won't explain the difference between a 'ringbeller' and a 'trogglehumper', or say why w itches need 'gruntles' eggs' or suggest a word for the shape of a 'Knid'. All the words that Roald Dahl invented are here, like 'biffsquiggled' and 'whizzpopping,' to remind you what means what. You'll also find out where words came from, rhyming words, synonyms and lots of alternative words for words that are overused. Oxford Children's Dictionaries are perfect for supporting literacy and learning and this is the world's first Roald Dahl Dictionary from the word experts at Oxford University Press. With real citations from Roald Dahl's children's books and illustrations by Quentin Blake, the Oxford Roald Dahl Dictionary will inspire and encourage young writers and readers. ...Show more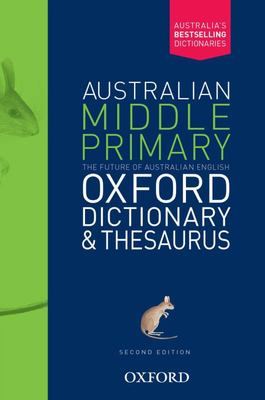 $26.95
AUD
Category: Reference | Series: Australian Dictionaries/Thesauruses/Reference Ser.
The Australian Middle Primary Oxford Dictionary & Thesaurus (2e) is the most up-to-date, fully integrated primary dictionary and thesaurus available in Australia. It draws on the very latest Australian research into the words most commonly used by Australian children in Years 3 and 4, and combines a dictionary and thesaurus using an innovative 'one-stop' entry format. Key features:Age level: 8-10Over 11 000 dictionary head words and thesaurus entriesAlphabet edge indexes for clear signposting and easy navigationSimple respelling system to aid pronunciationWord origins are explained, while synonyms and antonyms are included within dictionary entriesWord building boxes are included to develop students' morphology skillsExample sentences to show words used in context. ...Show more
$24.99
AUD
Category: Reference
Simple and timeless tools for success and happiness For more than eighty years, millions of people from Warren Buffett to Oprah Winfrey have benefited from the remarkable wisdom of Dale Carnegie. Intended as a basic sales primer, How to Win Friends and Influence People quickly exploded into an overnigh t success--selling more than fifteen million copies worldwide and becoming one of the most influential books of all time. With an enduring grasp of human nature, Dale Carnegie's How to Win Friends and Influence People shows you how to be more persuasive and effective, a better leader and manager, and happier at home and at work. This special new edition of the beloved classic includes an exclusive foreword by Terry O'Reilly. ...Show more