$29.99
AUD
$32.99
(9% off)
Category: New Age
A beautiful, intimate and inspiring investigation into how we can find and nurture within ourselves that essential quality of internal happiness - the 'light within' that Julia Baird calls 'phosphorescence' - which will sustain us even through the darkest times. Over the last decade, we have become bett er at knowing what brings us contentment, well-being and joy. We know, for example, that there are a few core truths to science of happiness. We know that being kind and altruistic makes us happy, that turning off devices, talking to people, forging relationships, living with meaning and delving into the concerns of others offer our best chance at achieving happiness. But how do we retain happiness? It often slips out of our hands as quickly as we find it. So, when we are exposed to, or learn, good things, how do we continue to burn with them? And more than that, when our world goes dark, when we're overwhelmed by illness or heartbreak, loss or pain, how do we survive, stay alive or even bloom? In the muck and grit of a daily existence full of disappointments and a disturbing lack of control over many of the things that matter most - finite relationships, fragile health, fraying economies, a planet in peril - how do we find, nurture and carry our own inner, living light - a light to ward off the darkness? Absorbing, achingly beautiful, inspiring and deeply moving, Julia Baird has written exactly the book we need for these times. ...Show more
$14.99
AUD
Category: Kids/Teen Non-Fiction/Activity
Have you seen Bluey and Bingo? There are lots of other hidden items too, so join the fun in this search-and-find book! 
$16.99
AUD
Category: Board Books
Bluey wants to play Mum School instead of having her bath. But will the kids listen to her? A gorgeous hardback book for kids of all ages. Bluey has been a phenomenal success since airing on ABC KIDS in October 2018, amassing legions of dedicated fans and hugely popular ranges of books, toys, clothes, g ames and more. It holds the coveted position of being the most watched program ever on ABC iView, with over 260 million plays for Series One, and is the winner of an International Emmy for Most Outstanding Children's Programme.   ...Show more
$34.99
AUD
Category: Current Affairs Politics
A deeply powerful, poetic and compelling book on the challenges facing our world, from one of Australia's most experienced journalists and international commentators, Stan Grant. History is turning. In only a few short decades, we have come a long way from Francis Fukuyama's declaration of the 'end of history' and the triumph of liberal democracy in 1989. Now, with the inexorable rise of China, the ascendancy of authoritarianism and the retreat of democracy, the world stands at a moment of crisis. This is a time of momentous upheaval and enormous geopolitical shifts, compounded by the global pandemic, economic collapse and growing inequality, Islamist and far right terror, and a resurgent white supremacy. The world is in lockdown and the showdown with China is accelerating - and while the West has been at the forefront of history for 200 years, it must now adapt to a world it no longer dominates. At this moment, we stand on a precipice - what will become of us? Stan Grant is one of our foremost observers and chroniclers of the world in crisis. Weaving his personal experiences of reporting from the front lines of the world's flashpoints, together with his deep understanding of politics, history and philosophy, he explores what is driving the world to crisis and how it might be averted. He fears the worst, but begins to chart the way forward. There is bitterness, anger and history here, but there is also the capacity for negotiation, forgiveness and hope. A powerful and incisive analysis of the state of our world, and our place within it. ...Show more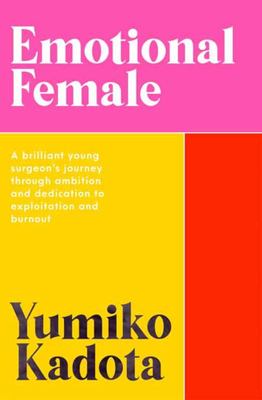 $34.99
AUD
Category: Auto/Biography
A passionate account of the toxic culture of bullying and overwork that junior doctors can experience in the workplace as part of their training. Yumiko Kadota was every Asian parent's dream: model student, top of her class in medical school and on track to becoming a surgeon. A self-confessed workah olic, she regularly put 'knife before life', knowing it was all going to be worth it because it would lead to her longed-for career. But if the punishing hours in surgery weren't hard enough, she also faced challenges as a young female surgeon navigating a male-dominated specialty. She was regularly left to carry out complex procedures without senior surgeons' oversight; she was called all sorts of things, from 'emotional' to 'too confident'; and she was expected to work a relentless on-call roster – sometimes seventy hours a week or more – to prove herself. Eventually it was too much and Yumiko quit. Emotional Female is her account of what it was like to train in the Australian public hospital system, and what made her walk away. Yumiko Kadota is a voice for her generation when it comes to burnout and finding the resilience to rebuild after suffering a physical, emotional and existential breakdown. This is a brave, honest and unflinching work from a major new talent. ...Show more
$24.99
AUD
$29.99
(16% off)
Category: Teen Fiction
What's important is our story, our whole story, including those moments when we feel a little vulnerable . . . Michelle Robinson started life sharing a bedroom with her older brother Craig, in their family's upstairs apartment in her great-aunt's house. Her parents, Fraser and Marian, poured their love and energy into their children. She would go on to become Michelle Obama, the inspirational First Lady of the United States of America.Now adapted for younger readers, with new photographs and a new introduction from Michelle Obama herself, this memoir tells a very personal, and completely inspiring, story of how, through hard work and determination, the girl from the South Side of Chicago built an extraordinary life. A tale of ups and downs, triumphs and failures, this is an incredibly honest account. It'll take you from the early years - first kiss, first school, first love - to the wonders of the White House, and the moment Mrs Obama shook hands with the Queen of England.A book to read, share, and talk about with the adults in your life, this is a call to action and compassion, and hope for change in uncertain times, and in a scary world.You'll be inspired to help others, and understand that no one is perfect. Just like Michelle Obama, you too are finding out exactly who you want to be (and, actually, so are the adults in your life).Above all, it is a book to make you think- who are you, and what do you want to become? ...Show more
$32.99
AUD
Category: Auto/Biography
In 2017, a survey showed zero per cent of young Australian women would consider entering politics. Zero. In a time when we critically need women in our parliament, and in a country that was an early leader in women's political participation, there is a perception that women and politics don't mix. Shoc king incidents have exposed the sexism that women in politics face from opposition, the media, the public, even their own colleagues. And those headlines only tell half the story. In Sex, Lies and Question Time, Kate Ellis tells the sometimes enraging, often funny and incredibly honest full story of women in Australian politics today. As well as sharing the experiences of her own fifteen years in parliament, Kate has spoken to politicians from across Australia's political spectrum, including former Prime Minister Julia Gillard, Julia Bishop, Penny Wong, Linda Burney, Sarah Hanson Young and Pauline Hanson. Kate explores issues like sexism, bullying, motherhood, appearances, social media, racism, the sisterhood and, of course, sex. Most of all this book is a powerful call for Australian women to inspire to political leadership, to shape a fairer Australia – where 'women's issues' are everyone's issues. Why would a woman want to go into politics? From where most women stand, Parliament looks like a toxic boys' club. Here, Kate Ellis bursts the Canberra bubble to reveal what life is like for our female MPs, and why it's the best and worst job in the world.   ...Show more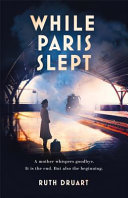 $29.99
AUD
$32.99
(9% off)
Category: Fiction
Perfect for readers of EARLY ONE MORNING and THE LIGHT BETWEEN OCEANS, Headline Review's Lead Launch for 2021 is a gripping, moving debut novel of courage, survival and the endurance of hope.On a platform in occupied Paris, a mother whispers goodbye.It is the end.But also the beginning. Santa Cruz 1953 . Jean-Luc thought he had left it all behind. The scar on his face a small price to pay for surviving the horrors of Nazi occupation. Now, he has a new life in California, a family. He never expected the past to come knocking on his door. Paris 1944. A young woman''s future is torn away in a heartbeat. Herded on to a train bound for Auschwitz, in an act of desperation she entrusts her most precious possession to a stranger. All she has left now is hope. On a darkened platform two destinies become entangled. Their choice will change the future in ways neither could have imagined. Beginning on an ordinary day and ending on an extraordinary one, WHILE PARIS SLEPT is an unforgettable read. Beautiful. Powerful. Unforgettable. A stunning portrait of the brutality of war and the tenacity of love.  ****''Both epic and intimate, this unexpected story of two couples'' sacrifices in war-torn France had me completely and utterly enraptured. You''ll have your heart in your mouth and tears on your cheeks as it reaches its rich, life-affirming conclusion'' Louise Candlish ''What a book... Emotional and heartrending...absolutely phenomenal. I was on tenterhooks throughout. A wonderful achievement'' Jill Mansell ''While Paris Slept made me think and cry and rage and smile at mankind''s capacity for both beautiful, selfless love and terrible, heartbreaking cruelty. A story of wartime courage and desperation, and of the many ways in which war reverberates through people''s lives for years after the fact. Prepare to be thoroughly engrossed in this compelling book'' Natasha Lester ' 'A heartbreaking debut, While Paris Slept will appeal to fans of The Light Between Oceans. The novel delves into eternal questions: How far will we go to protect our child? Is love holding tightly or letting go?'' Janet Skeslien Charles, author of The Paris Library ''A powerful and poignant debut from a brilliant and bold new novelist. Expertly weaving together multiple storylines, author Ruth Druart fills each page with thrilling suspense, uncommon emotional depth, and fascinating characters'' Imogen Kealey, author of Liberation EARLY 5 STAR READER REVIEWS FOR WHILE PARIS SLEPT... ''This book was beautiful - a book on love and courage demonstrated in different ways, showing that there is no one way to love or be brave. I was unable to stop reading *****'' Goodreads reviewer ''For fans of Sophie''s Choice and Sarah''s Key, While Paris Slept is an atmospheric debut about the cost of war and the consequences of love. Impressive *****'' Goodreads reviewer ''I loved this novel, I''m still crying. A truly beautiful book that captures the meaning of parental love in all its forms. I highly recommend this book to all my book groups. Exquisite *****'' Goodreads reviewer ''I loved While Paris Slept. It''s a novel that keeps you turning the pages to find out what happens next but also stops you short at times as you wonder what you would have done in the situations facing the protagonists. I finished the novel with tears in my eyes. An uplifting novel and will be great for book clubs'' *****'' Goodreads reviewer ''I really liked this book. It felt a lot like The Alice Network. Very well done. Highly recommend'' Goodreads reviewer ''An excellent and thrilling novel *****'' Goodreads reviewer ...Show more
$15.99
AUD
Category: Junior Fiction
The Cook-Off is on! Weir and his friends have their eyes on the prizea trip to Queen Bubblegums LOLLY FACTORY! Will the battle be a piece of cake?! It wont be easy... but it will be funny!
Slime
by David Walliams
$19.99
AUD
Category: Junior Fiction
 Welcome to the Isle of Mulch! Home to a large number of awful adults who like nothing more than making children miserable. And the island is owned by the most awful one of all – Aunt Greta Greed! Something needs to be done about them. But who could be brave enough? Meet Ned! Ned has lived on Mulch all his life and whilst trying to get his own back on his trickster sister, Jemima, he discovers one of the great mysteries of the world – slime! What is it? Who is it? Where does it come from? And how does Ned use slimepower to take on the horrible grown-ups of Mulch? ...Show more
$32.99
AUD
Category: Fiction
Nic is a forty-five-year-old trivia buff, amateur nail artist and fairy godmother to the neighbourhood's stray cats. She's also the owner of a decade's worth of daily newspapers, enough clothes and shoes to fill Big W three times over and a pen collection which, if laid end-to-end, would probably circle her house twice. The person she's closest to in the world is her beloved niece Lena, who she meets for lunch every Sunday. One day Nic fails to show up. When Lena travels to her aunt's house to see if Nic's all right, she gets the shock of her life, and sets in train a series of events that will prove cataclysmic for them both. By the acclaimed author of An Isolated Incident, Love Objects is a clear-eyed, heart-wrenching and deeply compassionate novel about love and family, betrayal and forgiveness, and the things we do to fill our empty spaces. ...Show more
$29.99
AUD
Category: Travel Writing
Anthony Bourdain saw more of the world than nearly anyone. His travels took him from the hidden pockets of his hometown of New York to a tribal longhouse in Borneo, from cosmopolitan Buenos Aires, Paris, and Shanghai to Tanzania's utter beauty and the stunning desert solitude of Oman's Empty Quarter - a nd many places beyond. In World Travel, a life of experience is collected into an entertaining, practical, fun and frank travel guide that gives readers an introduction to some of his favorite places - in his own words. Featuring essential advice on how to get there, what to eat, where to stay and, in some cases, what to avoid, World Travel provides essential context that will help readers further appreciate the reasons why Bourdain found a place enchanting and memorable. Supplementing Bourdain's words are a handful of essays by friends, colleagues, and family that tell even deeper stories about a place, including sardonic accounts of traveling with Bourdain by his brother, Chris; a guide to Chicago's best cheap eats by legendary music producer Steve Albini, and more. Additionally, each chapter includes sly, witty illustrations by cartoonist Tony Millionaire. For veteran travelers, armchair enthusiasts, and those in between, World Travel offers a chance to experience the world like Anthony Bourdain.   ...Show more