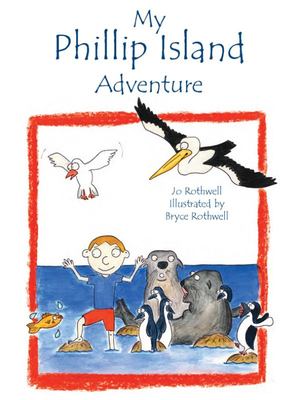 $14.99
AUD
Category: Picture Paperbacks
Follow the adventures of Harry, along with his family and little penguin friends, as they explore Phillip Island. Through Harry's eyes you are taken on a very special tour of this wondrous island off the coast of Victoria.
$14.99
AUD
Category: Board Books | Series: BLUEY
It's Bingo's turn to take Bob Bilby home. Will he have fun with Bluey and Bingo?  
$16.99
AUD
Category: Board Books | Series: Bluey
Bluey loves to play Use the magnets to create games for Bluey, Bingo and their friends in the backyard, the forest and more. A fun-filled magnet book for kids of all ages. Blueyhas been a phenomenal success since airing on ABC KIDS in October 2018, amassing legions of dedicated fans and hugely popula r ranges of books, toys, clothes, games and more. It holds the coveted position of being the most watched program ever on ABC iView, with over 260 million plays for Series One, and is the winner of an International Emmy for Most Outstanding Children's Programme.   ...Show more
$14.99
AUD
Category: Board Books
Bluey and Bingo head to the pool with Dad. What could go wrong? A gorgeous board book for kids of all ages. Bluey has been a phenomenal success since airing on ABC KIDS in October 2018, amassing legions of dedicated fans and hugely popular ranges of books, toys, clothes, games and more. It holds the cov eted position of being the most watched program ever on ABC iView, with over 260 million plays for Series One, and is the winner of an International Emmy for Most Outstanding Children's Programme.   ...Show more
$14.99
AUD
Category: Board Books | Series: Bluey
Join Bluey on a dreamy night-time adventure. What will you see in the dark? Not wanting to go to bed, Bluey wishes she was a nocturnal fruit bat that stays up all night. Soon she finds herself flying through the night sky. Bluey has been a phenomenal success since airing on ABC KIDS in October 2018, a massing legions of dedicated fans and taking the coveted position of being the most watched program ever on ABC iView, with over 100 million plays. It has also topped the Australian iTunes Kids Chart with the series peaking at #1 and consistently remaining in the Top 5. ...Show more
$14.99
AUD
Category: Board Books | Series: Bluey
Join Bluey for a fun day at the beach. What will you discover along the way? While Mum is off for a walk along the beach, Bluey discovers a beautiful shell. She runs to show Mum and has a series of encounters that will both excite and test her in unexpected ways. Bluey has been a phenomenal success si nce airing on ABC KIDS in October 2018, amassing legions of dedicated fans and taking the coveted position of being the most watched program ever on ABC iView, with over 100 million plays. It has also topped the Australian iTunes Kids Chart with the series peaking at #1 and consistently remaining in the Top 5. ...Show more
$14.99
AUD
Category: Board Books
Join Bluey and Bingo as they try to answer the question- can grannies dance? Bluey has been a phenomenal success since airing on ABC KIDS in October 2018, amassing legions of dedicated fans and taking the coveted position of being the most watched program ever on ABC iView, with over 200 million plays. It has also topped the Australian iTunes Kids Chart with the series peaking at #1 and consistently remaining in the Top 5. ...Show more
$14.99
AUD
Category: Board Books | Series: Bluey
What will Bluey find when she explores the creek? Bluey has been a phenomenal success since airing on ABC KIDS in October 2018, amassing legions of dedicated fans and taking the coveted position of being the most watched program ever on ABC iView, with over 100 million plays. It has also topped the Aust ralian iTunes Kids Chart with the series peaking at #1 and consistently remaining in the Top 5. ...Show more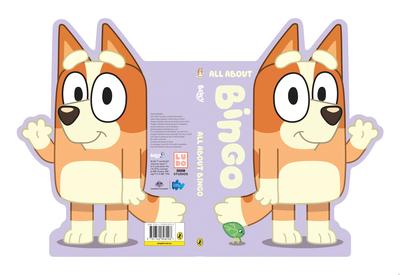 $16.99
AUD
Category: Board Books
Meet Bingo! Bingo Heeler loves getting lost in her own world, talking to tiny bugs and, of course, relaxing in her relaxing chair! Get to know all about Bluey's little sister in this fun shaped board book. Bluey has been a phenomenal success since airing on ABC KIDS in October 2018, amassing legions of dedicated fans and taking the coveted position of being the most watched program ever on ABC iView, with over 170 million plays. It has also topped the Australian iTunes Kids Chart with the series peaking at #1 and consistently remaining in the Top 5. ...Show more
$16.99
AUD
Category: Board Books
Meet Bluey! Bluey Heeler loves to play, explore and use her imagination to turn everyday life into an amazing adventure. Learn all about Bluey in this fun shaped board book. Bluey has been a phenomenal success since airing on ABC KIDS in October 2018, amassing legions of dedicated fans and taking the c oveted position of being the most watched program ever on ABC iView, with over 170 million plays. It has also topped the Australian iTunes Kids Chart with the series peaking at #1 and consistently remaining in the Top 5. ...Show more
$17.99
AUD
Category: Junior Fiction | Series: Dog Man
A brand-new graphic novel series by Dav Pilkey, the internationally bestselling author and illustrator of the DOG MAN and CAPTAIN UNDERPANTS series. Welcome to the Cat Kid Comic Club, where Li'l Petey (LP), Flippy, and Molly introduce twenty-one rambunctious, funny, and talented baby frogs to the art of comic making. As the story unwinds with mishaps and hilarity, readers get to see the progress, mistakes, and improvements that come with practice and persistence. Squid Kid and Katydid, Baby Frog Squad, Gorilla Cheese Sandwich, and Birds Flowers Tree: A Haiku Photo Comic are just some of the mini-comics that are included as stories-within-the-story, each done in a different style, utilizing humour and drama, prose and poetry, illustrated in different media including acrylics, pastels, coloured pencils, felt-tip markers, clay, hand-made cardboard sculptures, photographs, pipe cleaners, construction paper collages, and cookies. Readers of all ages will be inspired to dream up their own stories and unleash their own creativity as they dive into this pioneering graphic novel adventure from Dav Pilkey and his heartfelt, humorous, and amazing cast of characters in the Cat Kid Comic Club. ...Show more